London is the capital of the United Kingdom, and it also holds the distinction of being one of the world's largest cities. Long considered one of the world's centers for business, finance, culture, and international affairs, London is also a city that is steeped in European history.

London is located at about 51.52 degrees North (latitude) and 0.10 degrees West (longitude).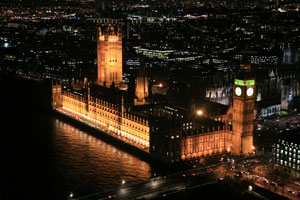 Due to its long history and exposure to events such as the Great Fire of 1666, which wiped out most of the city's buildings, and the bombings of World War II, London comprises a unique mix of architectural styles that make it unlike any other city in the world. From the tall, modern buildings in the financial district to the Gothic revival style of the House of Parliament, the architecture in London is as diverse as its residents.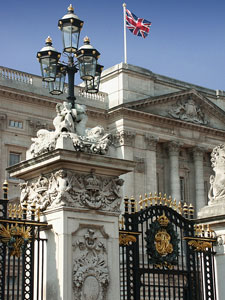 London is home to about 7 million people, and millions of tourists flock to the city every year to see such renowned sites as Westminster Abbey, the Royal Botanical Gardens, and the Tower of London. Piccadilly Circus, Trafalgar Square, Buckingham Palace, and Madame Tussaud's Wax Museum are also popular attractions.
Like New York City, London is another "city that never sleeps." Those who enjoy entertainment will find plenty to see at the Royal Shakespeare Company, the London Symphony Orchestra, and the London Classical Orchestra. London's theater district also boasts some of the best theatrical performances in the world.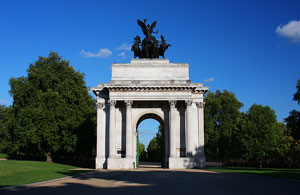 Those who are looking for respite from busy city life will find many green spaces throughout London. Among London's many parks is Hyde Park, which was once a royal hunting ground and is well known for the duels and executions that occurred there. Hyde Park is also home to the Serpentine, a large lake where many boat rides are enjoyed. Regents Park, home of the Queen Mary Rose Gardens, is another outdoor venue enjoyed by residents and tourists alike.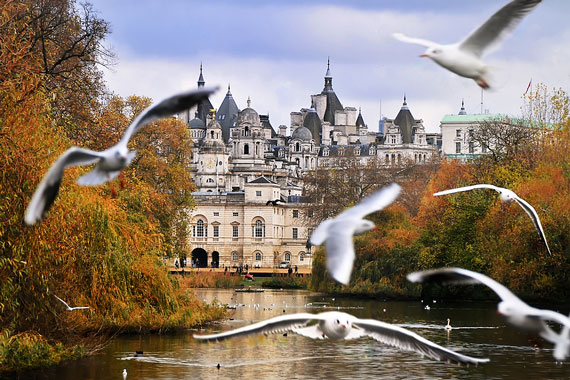 Whitehall London, Viewed from Hyde Park
There are various ways to see the city. For a bird's eye view, the London Eye, a slowly rotating observation platform, affords one a view of most of the city. Hampstead Heath, located north of the city and accessible by bus or taxi, also allows a sweeping, panoramic view of the entire city. Those looking for an up-close-and-personal experience may want to take a tour on one of London's famous double-decker buses.
For more information about London, please visit this official London travel guide web page and this official City of London Corporation website.
---
Copyright © Map-of-UK.com. All rights reserved.
London Locator Map - Map of London, England