The United Kingdom of Great Britain and Northern Ireland (UK) is an island nation located in northwest Europe. It is bordered by Ireland to the west, the North Sea to the northeast, and the English Channel and France to the southeast. The total area of the UK is 94,526 square miles, consisting of the island of Great Britain plus Northern Ireland on the island of Ireland and a number of small islands and island groups. Great Britain consists of three parts — England, Wales, and Scotland. London, the capital city of the United Kingdom, is situated in the southeastern part of Great Britain.
UK Travel Information
The United Kingdom includes England as well as Wales, Scotland, and Northern Ireland. In London, tourist attractions include the Tower of London, Kensington Palace, and Tower Bridge. Popular sports in Great Britain range from golf and cycling to walking and fishing. The UK is also a huge influence in the equestrian sports industry, with many English riding stables and liveries. The highest point in the United Kingdom is Ben Nevis, rising to 4,406 feet (1,343 meters) above sea level.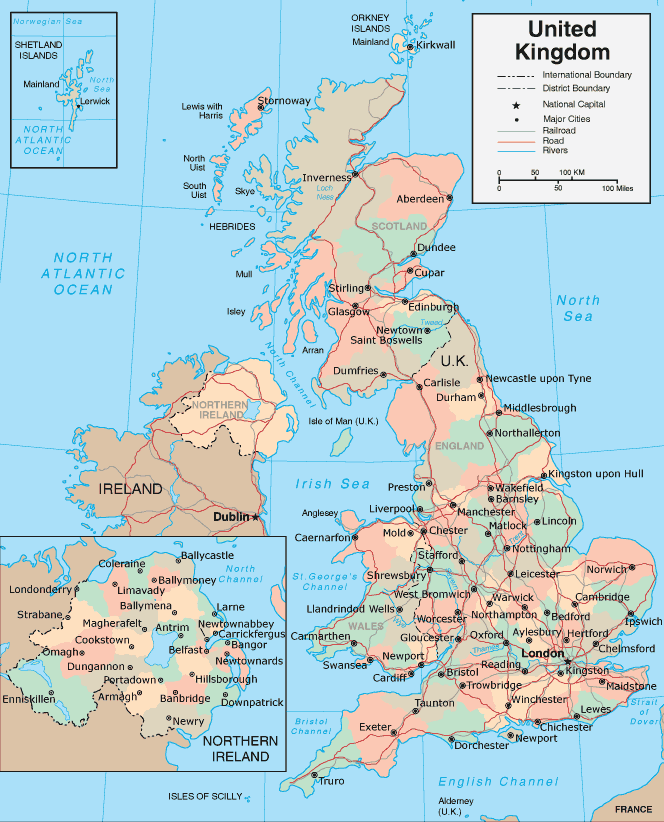 Political Map of the United Kingdom
Leading UK Cities
The cosmopolitan city of London, a popular tourist destination and a hub for international transport and finance, is England's largest city. The industrial city of Birmingham, located in the West Midlands, is England's second-largest city. Manchester, a commercial city in northern England, is a center for education, media, and the arts. On the south coast of England, Brighton is a vibrant, artistic, seaside resort.

Cardiff, the capital city of Wales, is a prosperous port city located near the southeastern coastline.

Edinburgh, the capital of Scotland, is a multicultural blend of ancient and modern times, and is popular with tourists. Glasgow, Scotland's largest city, is located on the River Clyde and features a unique Scottish blend of friendliness and energy. Visitors will find art galleries and museums as well as good restaurants and pubs.

The coastal city of Belfast, capital of Northern Ireland, features grand public buildings and a flourishing economy.
More Maps of the UK
UK Tourism
United Kingdom Resources
CIA - The World Factbook - UK - American Government almanac offers maps, geography and statistics for the United Kingdom.
Wikipedia - UK - This free online encyclopedia includes information about the history, regions and geography of the UK.
Maps of Europe and Adjacent European Countries
---
Copyright © Map-of-UK.com, a division of Zeducorp.
All rights reserved.
Search
.
About us
.
Certain maps hereon are © Map Resources.
Map of UK
Maps of United Kingdom of Great Britain and Northern Ireland