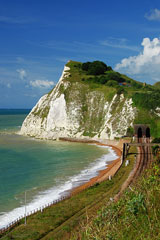 A railway track runs through the beautiful white cliffs of Dover, U.K. The sea laps against the cliffs, while a few clouds float in an azure blue sky. Visitors to the United Kingdom may be visiting England, Wales, Scotland, or Northern Ireland. Ride horses across vast green fields in Northern Ireland, see some of the world's best theatre in London, England, or go golfing on some of the best courses in the world in Scotland. Nature lovers will find plenty to do in the U.K.'s stunning outdoors, including its popular lake district, while those who love a more urban experience will delight in cities such as London, Glasgow, and Edinburgh.
---
Use the search box on this page to find information about the United Kingdom.
Copyright © Map-of-UK.com. All rights reserved.
Map of UK - Custom Search Results